Viewpoint Articles
Welcome to the SkilledPeople.com Viewpoint page where issues of the day are commented on and discussed. These range from diversity to age discrimination and from productivity to prospecting for talent.
Advice for over 50s looking for a new job
SkilledPeople.com often gets what a person aged over50 should do when applying for a new job. We don't have the resources to provide one-to-one consultancy to older candidates but our advice can be summarised as follows:
1. Limit a CV to the last 20 years maximum and no more than two pages long.
2. Work on the basis that 'less is more' in a CV. Keep the narrative short and use bullet points to summarise experience and achievements.
3. Most importantly, decide what you want to be. Mature candidates often think our experience qualifies us to do a range of jobs and we cast our net too wide. Employers don't think like that. They want a person to fulfil a specific role. So be clear about what you are and only apply for roles that match your positioning.
4. Take a sniper as opposed to a shotgun approach to job applications, ie. apply for fewer positions but with highly tailored, specific responses which reflect the qualities that the employer is looking for.
5. If you're not sure 'what you are' try looking at this video: http://www.findyourthingbook.com/about-lucy/ I'm not a fan of self-help books but I do think the idea of 'Finding Your Thing' is relevant to a lot of widely experienced over 50s.
We are also often asked about age discrimination which is of course illegal now in the UK. Despite this, 'under the table' age discrimination is widespread in recruitment. It is a subject that floats to the surface on a regular basis although the media are less interested in it at present now that the UK is virtually at full employment. We often find ourselves sharing platforms with like-minded people or organisations. The most active is Business In The Community: https://twitter.com/AgeBITC?ref_src=twsrc%5Etfw&ref_url=https%3A%2F%2Fage.bitc.org.uk%2F and https://age.bitc.org.uk/
If you feel you are the victim of age discrimination, consult a 'no win no fee' solicitor, talk to Citizens Advice or take the problem to your local newspaper.
Topic 1
Who will hire men and women in their 50s and 60s? What's the point of workforce diversity?
A fast growing number of businesses will - due to the shrinking skilled labour pool in the UK today, many businesses are looking beyond their usual recruitment criteria and are turning to the more mature work pool for a wide variety of jobs.
They are waking up to the advantages of workplace diversity.
In fact, recent legislation on age descrimination will force employers to consider older, experienced workers when recruiting. In their search for good staff enlightened employers have come to recognise the value older people can add to their business, bringing with them a wealth of experience, know how and skills. It makes good business sense to recruit people with these attributes - as well as getting conscientious and flexible workers, mature people are usually happy to pass on their knowledge and know-how or act as mentors for younger members of staff. Employers also appreciate having staff who are punctual, take less time off and who actually want to work!
What sort of jobs are available to the over 50s and beyond?
The jobs are as varied as those offered to younger candidates – sometimes even more varied. Often mature people have reached a stage in life when they want to work less hours, or full time but on a short to medium term contract, they may want less responsibility or go back to the work they did in a previous career. So, compared to their younger counterparts, they may well have more opportunities open to them.
Start up businesses and those in a fast growth period desperately seek experienced, skilled and flexible staff to support them as they launch or build their operations. They often need knowledgeable people with know-how gained from many years of business life - sometimes in a specialised field such as finance, marketing, sales or operations, sometimes just with general work and business experience from the school of life!
People with many years of practical, hard-won experience, who can help younger staff avoid repeating costly mistakes, are now being sought out by employers in a wide variety of industries, from banks to garden centres and call centres to engineering – and a variety of positions from directors to customer advisers.
Changing direction or starting a new career after fifty or sixty is no longer exceptional. Employers are recognising the positive attributes of age – good timekeeping, conscientiousness, willing to learn, reliability, general knowledge of business life – and are often willing to retrain older people.
Baby Boomers get Older and Wiser
In two years' time one Baby Boomer will be reaching retirement age every 30 seconds but they won't all be retiring from work. Whilst Baby Boomers, or older workers, have "been there, done that, got the t-shirt" they have gained a vast wealth of experience, an old fashioned work ethic and a realistic and often pragmatic view on life. They represent a rich seam of talent that can be of enormous value to employers. Experience counts!
Currently there are 7.6 million 55 to 64 year olds in the UK and half of them want to continue working out of choice. Some are already financially secure but feel that life could become a little dull without the motivation of a job. They enjoy the thrill of a new challenge, the work environment, even the stress, and they fully appreciate the added benefit of the monetary rewards they reap.
Over the years many myths have grown up about older, mature workers – but various studies and surveys have shown that 'myths' is exactly what they are.
Myth: training older workers is a poor investment as they will not stay long enough on the job.
Reality: the potential working life of over 50's usually exceeds the life of new technology for which they are trained.
Myth: older workers are not as productive as younger staff.
Reality: overall productivity does not decline as a function of age. In fact productivity can actually rise because of greater worker accuracy, dependability and capacity to make better on the spot judgements
Myth: older workers take more time off work
Reality: surveys show that older workers have a better attendance record than younger workers. And because their families are off hand, they don't need to take time off to look after young children, attend school events, or maternity leave.
Myth: older workers cannot accept change.
Reality: evaluations of older workers show that a high proportion are flexible in accepting change in occupation and earnings; they are just as adaptable once they understand the reason for changes.
Why work beyond age 60?
The fabric of Society has changed tremendously over the last few years. This is having a marked effect on the baby boomer generation: now fifty plus and facing a future that many didn't contemplate.
No longer are jobs for life or pensions guaranteed. Even those who thought that they had made adequate pension provision are facing the stark reality that they simply do not have enough income to sustain a reasonable standard of living.
Inflation may be at an all time low – according to the Government – but anyone on a fixed income is going to struggle as Council Tax, Utilities and other necessities streak ahead of the headline rate.
Those reliant on savings are also suffering, as interest rates remain at historically low levels.
So it should not come as a surprise that, even if the Government does not mandatorily raise the retirement age, more and more people in their 50s, 60s and even 70s are going to carry on working in one form or another – be that in full time employment, part time work, home working, self employment or offering consultancy services.
However, the cards are currently stacked against them, because there is a perception among recruiters – who are mainly young – that older people are set in their ways, slow to learn and likely to have a lot of time off sick. Not true!
Mature, skilled people – be they managers or workers - with years of experience can be an asset to any business or organisation. They are conscientious, willing to learn, can provide mentoring to younger employees and, contrary to expectations, have an exemplary attendance record.
Whilst the Government has outlawed ageism with new legislation, current jobseekers with experience and skill will need to find appropriate ways of presenting their career history, skills and experience to potential employers.
One of the simplest ways is to seek out an on line recruitment organisation which specialises in matching mature people to employers who appreciate the value that they can bring to a business, organisation or even as a volunteer helping a charity.
By matching the skills, attributes and experience of individuals to job vacancies posted by employers, organisations like Skilled People.com will be able to help jobseekers aged fifty plus, jobseekers in their 60s, and even those in their 70s looking for paid employment, to find suitable positions.
By David Hiddleston
Topic 2
Become a Puffer Fish to grow faster
In the 'dog-eat-dog' world of nature every animal knows that when they are under threat they need to make themselves look bigger than they really are. Cats arch their backs: birds fluff up their feathers and puffer fish expand by 100%.
Small businesses looking to grow exponentially could learn a lot from the puffer fish.
I successfully built and sold two businesses between 1992 and 2010 by adopting a 'Puffer Fish Strategy' to make the businesses look bigger than reality with the careful use of low cost freelancers and consultants. Now I've invested in skilledpeople.com to make it easier for ambitious small companies to tap into, and cherry pick, experienced people aged over 50 to enhance a company's competitiveness and move up the growth curve faster.
I believe passionately that SMEs are missing a trick. The UK has a deep reservoir of wasted talent that they could dip into as there are 100s of thousands of experienced people aged over 50 who, for a variety of reasons, are under-employed but are keen to make a difference. There are 390,000 people unemployed aged 50 to 64 but a staggering 3.4 million people are classed as economically inactive. This larger number includes many former directors, consultants and senior managers who do not register for benefits and the like because they want to work on short-term projects.
The cost of consultants or freelancers is often used as an excuse to not bring in an outside resource. What young business can afford day rates of £500 or £1,000 a day?
Well, what about if exceptionally skilled and experienced people with consultant qualities had to agree to charge a small business no more than a day rate of, say, £185. I know hundreds of incredible people who will work on this basis to help small businesses grow. I like to call these characters, Silver Bullets, as they have the ability to troubleshoot problems and deliver solutions quickly.
What's not to like?
Ambitious small businesses should be falling over themselves to find Silver Bullets of their own to access top of the market advice at bargain basement rates.
It gets better.
Recent research among 750 experienced over 50s revealed that 30% would be willing to do work experience for no pay other than expenses in order to stay economically active and a further 34% would do so to learn a new skill or update their existing knowledge.
Why aren't businesses of all sizes taking advantage of this fantastic resource? Instead, recruitment agents and HR execs compete with each other to hire people aged 30 to 40 with the inevitable impact on wage inflation.
My experience in business has shown that small companies can out-compete larger competitors by being smart when it comes to human resource. Traditionally, however, it has been expensive to bolt-on an expert or two because of the high day rates many companies charge. No longer is this the case. Just think Puffer Fish and Silver Bullets.
Author: Keith Simpson, Managing Director, SkilledPeople.com.
Topic 3
Why Employers and Employees Use the Internet and Jobsites to Fill Vacancies and recuit experienced staff.
For many of the 2.45 million people that were unemployed at the end of December 2012, the New Year began with a job search. According to the totaljobs.com barometer analysis of recruiter and jobseeker activity, the number of available jobs has grown by 19 per cent since the start of 2013 .
Record numbers of applicants for jobs are currently estimated at 20 people per vacancy, while for graduate jobs the figure is higher at 70 applicants per vacancy.
So, how do employers and prospective employees get ahead in the game of matching the perfect employee to the jobs on offer? Many private and public employers are utilising the facilities of job sites. Of the graduate employers that have used job sites alongside their corporate websites, many are declaring them the most effective way of recruiting.
A job site helps to ensure recruitment drives are more effective and cost efficient than the more traditional high street agencies and job centre options. From the outset, the employer can control what they advertise, who they attract and how they select candidates. Information from the job site can be used to create accurate management reports highlighting trends and popularity of the jobs they advertise and the candidates that respond.
An employer can peruse the profiles of thousands of job hunters and match their vacancies with those they feel may be right for the job. Recruitment is made easier for busy HR departments. This matching tool is useful for those offering specialist vacancies such as charity jobs, engineering jobs and IT jobs among many others.
Totaljobs.com has launched an interesting campaign using animated household appliances to illustrate the true situation in the employment market. Two appliances discuss one having a new job, the other expresses a desire to do the same. As the advert states, "it's not just luck" that gets the new career. Finding a new job requires organisation, preparation and a positive approach. This is where job sites can help.
For an employee looking for work, a jobsite can be the motivation they need to get organised and keep up morale. The Prince's Trust charity is currently campaigning to highlight the effects of unemployment on young people. In its survey of 2,170 unemployed individuals under the age of 25, almost half displayed heightened levels of mental health problems. Approximately 943,000 people aged 16 to 24 are unemployed in the UK.
Access to a jobsite enables people of all ages to locate informative and encouraging advice from professionals. Job sites understand the issues facing those looking for work and empower the individual with key skills to help reduce mental anxiety. Being in control of your job search is crucial to self esteem.
With towns losing big employers as factories close and call centres frequently move abroad, many people are seeking to broaden their geographic boundaries. Many are seeking jobs in London and other cities or larger towns. Transport costs are rising and these people would do well to heed the advice to assess the cost of travel and alternatives such as car sharing, prior to attending interviews. It may not always pay to travel.
Try using a job site to search for local work without restricting the search criteria to only include experience you already have. This can inspire you to make drastic changes in your career and realise potential you never knew you had. Checking out the learning opportunities available to you is also good idea. There are many government-financed courses that require no fees to those unemployed.
One thing is certain for 2013; the employment market will be unstable; however, this doesn't mean that your career has to be. Combining the use of a job site with a positive, open minded approach ensures your future is not just luck.
Topic 4
How to avoid legal problems when recruiting
By Nick Peach, Head of Employment Consultancy, Croner
With many companies receiving new annual budgets at the start of the year, January is the ideal time to start investing in recruitment. However, hiring the right candidate is critical.Getting the recruitment and selection process correct is vital; to avoid potential costly legal problems further down the line.
To help you reduce the risk, consult Croner's recruitment checklist:
> Implement a clear non-discriminatory policy and set of practices covering all stages of the recruitment and selection process, endorsed by senior management.
> Ensure that all staff involved in recruitment and selection fully understands the concepts of direct and indirect discrimination.
> Ensure job descriptions and person specifications do not contain statements, criteria or requirements that are directly or indirectly discriminatory on any of the prohibited grounds.
> Ensure that job advertisements are non-discriminatory, for example that they do not contain age limits or criteria that would put women, overseas nationals or older people at a disadvantage.
> Ensure that any positive action measures are supported by senior management and that they do not go beyond what is permitted by law.
> Ensure that all offers made to successful applicants are in writing and that they have been checked for both compliance with employment law and are consistent with the organisation's policy.
> Retain recruitment records for a reasonable period of time (six months is recommended) so that any concerns from applicants about the selection process can be responded to.
> Ensure that all records arising from the recruitment and selection process are handled in compliance with data protection legislation.
> Provide regular training in law and practice and workshops covering practical issues for managers involved in the recruitment and selection processand HR professionals.
> Ensure that the laws regarding the employment of children and young persons are complied with.
> Be aware of the rules regarding the employment of migrant workers.
Croner provides information, advice and practical online tools to help employers deal competently and confidently with a wide range of HR issues. Find out more at www.cronersolutions.co.uk.
Topic 5
Older workers come of age
- from Sunday Times 2013
Staff in their fifties can be more productive than younger ones. And there are going to be a lot of them.
Holding on to staff and overcoming skill shortages are often two of the priorities for chief executives. A solution to both could lie with the talents and knowledge of an ever-expanding group: the ageing workforce.
Britain has more people of retirement age than ever before. The percentage of the population aged 65 and over went up from 15% in 1985 to 17% in 2010, an increase of 1.7m people, and that number is only going to rise.
"A third of the workforce will be over 50 by 2020," said Ruth Spellman, chief executive of the Workers' Educational Association, which provides adult education. "It's going to be interesting to see how we make best use of their knowledge and skills."
Some companies have already learnt the benefits of an older workforce. In 2007, BMW began investigating after it came to light that the average age of staff at one of its car plants was expected to rise from 39 to 47 by 2017.
Managers at the power-train plant in Dingolfing, Bavaria, staffed one production line with workers with an average age of 47. Productivity on that line rose 7% in a year.
Such examples are important for dispelling myths about older workers being less productive, said Aimie Chapple, managing director of Accenture Management Consulting for the UK and Ireland. "A number of companies have staffed parts of their organisation with an older team and found that staff turnover was lower, absenteeism was lower and customers were well-serviced," she said.
"Companies may need to think about whether the physical space is designed to suit older workers, but they have to do that for other groups too."
Laura Tenison, founder of JoJo Maman Bébé, the maternity wear retailer, is well aware of the importance of managing the physical needs of an ageing workforce. "You need to be pretty realistic about the limitations of age," she said. "At 46 my eyesight is not as good as it was even five years ago — good-quality lighting in working areas is vital.
Older employees are often more loyal, she added. "Generally, a 50- to 60-year old is not going to be looking for a new job within two to three years."
Companies often give little thought to training for their mature workers. Research by Skillsoft, the e-learning company, found that 92% of UK business leaders admitted they did not invest in training and development for employees over the age of 60.
At the Workers' Educational Association, Spellman, who previously led the Chartered Management Institute, said training went beyond improving professional skills. "It's not about getting a better performance out of older workers. To have survived in their role so long they are probably doing a good job.
Computer says yes
The idea that mature workers struggle with technology is wrong, said Laura Tenison, founder and managing director of JoJo Maman Bébé.
The maternity and babywear retailer, founded 20 years ago, has low staff turnover. As a result, much of the workforce at head office in Newport, South Wales, is approaching, or has passed, retirement age.
This does not mean staff are not up to date with technology, said Tenison. Having part-computerised the picking and packing system three years ago, the company moved to a fully automated system at the end of last year.
"We were amazed at how well staff took to learning a new technology that not only benefited them in the workplace but in their home lives," said Tenison.
Such was the hunger to learn computer skills, she and her team decided to set up an internet cafe on-site. "When it comes to lunchtime, there is a great queue to use the PCs," she said.
Topic 6
How to make advertising on job boards more effective
from OnRec 30 March 2016
As a generalist job board, Jobsite say they pride themselves on offering broad exposure, as well as ever-evolving user friendly products and strong expertise for recruiters. They say they use refined performance marketing to ensure they deliver a high volume of relevant candidates for every role. "When it comes to choosing the right job board, it's important to evaluate the performance of a site. The only way to truly evaluate performance is to look at placements. Numbers such as traffic and registered candidates can offer an indication of the potential audience, but effectively tracking the origin of placements you make is the only way to be sure your investment is delivering. For Jobsite, that means that despite having a large audience, it's important that we target effectively and deliver the most appropriate audience to each advertised role."
However, Jobsite caution that it's important to remember that while online recruitment sites can give you access to the best candidates, they can't do all the work for you. They say that ultimately, a job advert must effectively sell the role; if it fails to do this, you're unlikely to receive the right applications. To ensure maximum ROI from advertising, make sure you're giving the advert creation process as much consideration as possible.
Get more from the sites you advertise your jobs on.
According to Jobsite, when it comes to advertising jobs roles online, it's important to remember that your posting is an advert and not a job description – it's a chance for you to not only sell your vacancy, but also your company. Try and work out what it is that will make a candidate want to click through and apply for the role. Jobsite suggests investing in extra advertising such as individual fully bespoke, targeted emails can propel a role, and allow recruiters to target the most relevant and active candidates. "Employers can also increase applications by using enhanced template options to make a vacancy stand out. Compared to other larger job boards, we are the only ones who offer clients the option of creating bespoke adverts, allowing the entire post to be tailored for specific needs. We've found that bespoke adverts tend to receive 2.5x more applications than other postings."
A common mistake when advertising a vacancy is to try and achieve a large quantity of applications, rather than a high quality of candidates says Jobsite. For the best results, they say to only use keywords and locations that will be relevant to the right candidates, and avoid irrelevant 'click-bait' terms which will only pull in larger quantities of inappropriate applications.
Simon Hughes, the founder of Jobatar agrees that it should be quality not quantity. To get the most out of any advertised role, you need to attract a high number of quality candidates. Hughes says those particular candidates can have their pick of companies to work for, and if they are to pay your role any attention, you need to stand out from the crowd. He advises steering clear of creating a 'same-old same-old advert', instead advertise the role with effective and well placed branding.
Have new adverts
In the same way that you need to be interested in a candidate from the first few words of a CV, Hughes reminds us, they need to be first captured by your advert, and subsequently interested in the role in order to apply. "There are some terrible examples of adverts out there, vague job descriptions, terrible spelling and poor formatting. Any of these will turn a candidate off a role. The best job adverts are those that have an immediate impact, hooking the reader in seconds; usually I recommend the content is kept be short and simple." Hughes encourages us not to be afraid to refresh job adverts. He says if an advert has worked well in the past, it's fine to re-post it, conversely, don't re-use an advert that hasn't performed well. "Consider why it failed and counter this with new text, targeting and images. Beyond getting the basics right, I would advise introducing video job descriptions. A video job description is memorable and makes a company appear innovative and modern. Diode Digital once found that, before reading any text, 60% of site visitors will watch a video if available. So take advantage of this. Introduce video job descriptions; get a HR manager to talk about the role and the culture of the organisation in order to engage candidates as this offers them the best flavour of the company."
Plan your advertising, and prices
Amy Edwards, Digital Marketing Manager at Bubble Jobs recommends that in order to get the best results from a job board, it's always worth listening to the advice each individual job board has to be offer. Edwards continues: "Each works in a different way and each knows their audience better than anyone else. Different candidates search in different ways. While some prefer the typical what/where search, others prefer to search by job area/category so it's always worth ensuring you've chosen the correct job categories for each advert and you've posted your job in the right location."
In terms of getting the best deals from job boards, considering your long-term hiring plans and opting for a six/12 month subscription bundle can work out to be much more cost-effective compared to purchasing individual adverts as and when necessary, says Edwards. "Choosing a long-term subscription deal can also work out to be really efficient (eg. you don't have to go through the process of negotiating a deal and settling an invoice every time you want to post an advert) – and can help you to streamline your recruitment process going forwards."
Regarding the adverts you post, Edwards believes it's the details that really do count. She says even simple things such as given a salary band, rather than stating "Highly Competitive" can be enough to make a candidate who's torn between applying and not reach for that 'apply' button. "Candidates these days, particularly in the highly competitive digital sector, are looking for a company that's a bit different and that has a bit of personality – so if you can inject some of originality and character into the advert, that can help to improve application rates too."
Other simple tweaks Edwards recommends that can improve application rates also include laying out the job advert in a pleasing manner (bullet points rather than huge paragraphs of text), specifying an exact city (counties can be pretty huge) and using a relatable job title (eg. a job title someone is actually searching for!).
How should you evaluate the performance of a site?
When it comes to evaluating a job board, it's worth looking beyond the bottom line in terms of views and applications, says Edwards. "Consider what you received for your money (was it just a standard job advert or did you receive more targeted services?) and what level of quality the candidates were who applied. While large view numbers and application figures can look impressive initially, it's worth analysing each application to see how relevant each candidate was – and how likely you'd be to take them through to the next stage of the recruitment process.
Similarly, when reviewing candidates received through recruitment advertising, consider if there are any candidates that applied who aren't necessarily right for the position you advertised, but would be a good fit for your company in general and could be added to your existing candidate database. In this situation, a job board could prove to have great ROI in the long-term and could help to bring your recruitment costs down in the future because they've already provided you with a number of relevant candidates for upcoming roles."
Topic 6
Employers have to recruit more people aged over 50 and 60
Employers who do not consider recruiting more people aged over 50 and 60 into executive positions are reducing their potential competitiveness.
This is the view of Keith Simpson, managing director of SkilledPeople.com who has observed a major shift in the recruitment market over the past 10 years.
There are now 20 million people in the UK aged over 50 of which a large proportion need to keep working for financial reasons or want to stay employed for social interaction. Either way, this army of over 50s contains a wealth of knowledge and experience which employers can tap into. SkilledPeople alone has 20,000 highly experienced 'white collar' workers on its books looking for new work opportunities.
In recent years employers have focussed most of their recruitment efforts on candidates aged between 30 and 45 to fill career executive positions. As a result, intense competition for quality candidates prompted above average salary inflation.
With the advent of near full employment in the UK it makes no sense for employers to constantly bid up the costs of this shrinking pool of talent. Instead, many employers are widening their recruitment focus to consider older applicants. These more mature candidates come with added benefits of greater reliability, better attendance records and superior attention to detail.
Despite the demographic shifts in the UK making it imperative that employers recruit more older people it's still the case that short-sighted recruiters practice 'under the table' age discrimination. We still hear of too many examples of this type of behaviour for it to be coincidental according to Keith Simpson. "But time will work against these unscrupulous recruiters as they will find their businesses being out at a disadvantage if they ignore the over 50s", he observes.
Topic 7
Older workers want to work flexibly and for most it's more important than salary.
The attitudes of workers towards salary and benefits in 2019 are fast becoming a very different to those held by their counterparts as little as 20 years ago.
The belief that salary is the biggest motivator for employees is now seen to be outdated as soft benefits become more important.
Chief among these soft benefits is the opportunity to work flexibly. Certainly for workers aged over 50 this can become critical as parents find themselves having to shoulder caring responsibilities for either aged parents or younger grandchildren alongside the normal demands of family life.
Evidence for this view comes from three studies:
An HSBC employee productivity survey found that 89% of people said that flexible working is their highest workplace priority ahead of salary.
Mumsnet research found that 60% of parents rated flexibility higher than salary.
Some 62% of IT workers said they would change jobs to get a better work-life balance in a study from CW Jobs.
Evidence gathered by SkilledPeople.com shows that almost everyone aged over 50 would prefer to work flexibly, and this benefit can be more important than pensions or generous holidays.
This requirement increases with age and is an even higher priority for workers aged over 60 or over 65.
As the numbers of people in the UK workforce aged over 50 and 60 increases rapidly in the next few years it makes sense for recruiters and employers to always think about whether they can offer some form of flexible working when recruiting.
---
Leaveism: welcome to the dark side of 21st century flexible working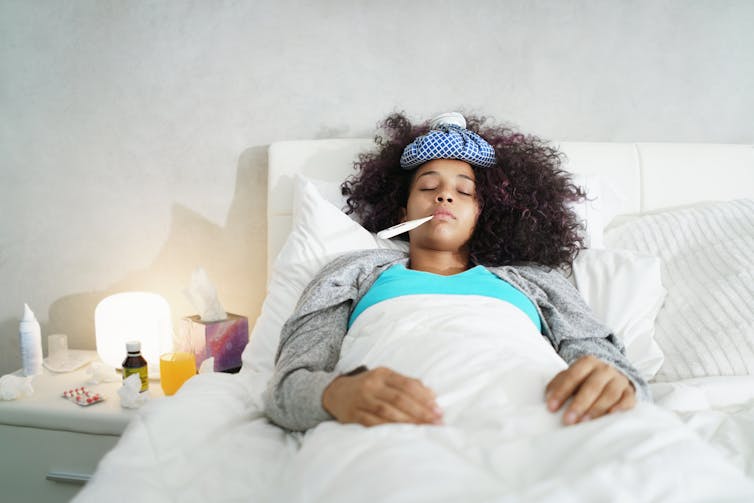 Ian Hesketh, University of Manchester and Cary Cooper, University of Manchester
Most people are familiar with presenteeism, where employees spend many more hours at the workplace than necessary – out of a sense of duty or to impress the boss or whatever. Presenteeism damages productivity, ultimately weakening the economy, and many companies now prioritise stamping it out.
A few years ago, our research into this sort of behaviour led us to identify a related but different phenomenon: employees using annual leave or other work entitlements, such as banked flexi-hours, to go off sick or to look after a relative or dependent. There was no name for such situations, so we called it leaveism.
As part of the same category, we also included employees taking work home that can't be completed in normal working hours, or catching up on work while on leave or holiday. Half a decade later, the bad news is that leaveism appears to be getting more and more common.
A recent Deloitte report, Mental Health and Employers: Refreshing the Case for Investment, included a deep dive into the phenomenon. It found that 51% of employees were working outside contracted hours and 36% were taking allocated time off when they were, in fact, unwell. It also noted that 70% of respondents who had witnessed presenteeism in their organisation had also observed leaveism.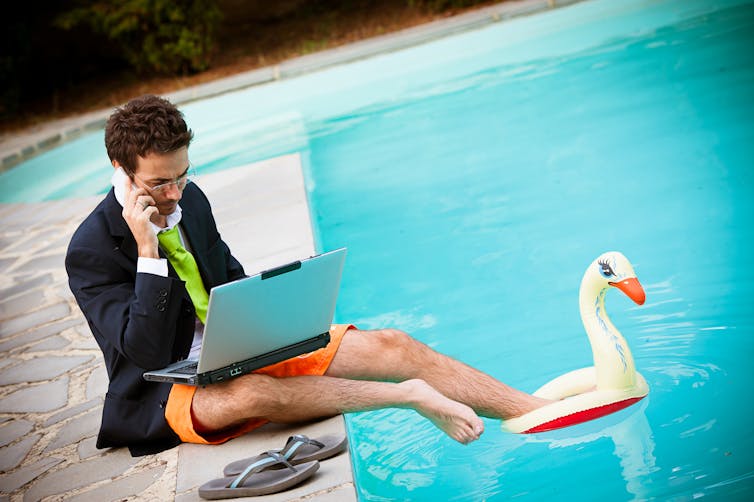 Worryingly for the future, the report said that younger professionals are more susceptible to taking leave in this way. They are also prone to burnout and financial worries, and twice as likely to suffer from depression as the average employee.
Little wonder that the BBC last year included leaveism in a review of the 101 people, ideas and things changing how we work today. It described the phenomenon as a "major scourge in the modern-day workplace".
Never not available
We are in an era where people are much more afraid of losing their jobs than in the past: companies have been operating in a low-growth environment for the past decade, which has meant more focus on profitability – including labour costs. Alongside this is the prospect of more and more jobs being automated in the coming years.
This has meant more employees having to live with excessive workloads, and bosses afraid for their own livelihoods who are micromanaging people and not giving them enough autonomy and control at work. A study of Austrian workers in 2015 concluded that employees were more likely to use annual leave to go off sick if they fear losing their jobs or having them downgraded, or if they were experiencing low job satisfaction.
Compounding this sense of unhappiness at work is likely to be the way that technology is changing how we do our jobs. In a survey of 1,000 HR professionals representing 4.6 million UK employees, 87% said that technology was affecting people's ability to switch off out of working hours. Common examples were employees taking work-related phone calls or responding to work emails.
At first glance, these behaviours may look fairly innocuous and just part of modern-day working life. But we are in danger of endorsing a tech-enabled 24-7 working culture from which it is increasingly difficult to switch off. Work-life balance is becoming a thing of the past. For many of us, it is being superseded by work-life integration.
Whatever the positives of not being tied to an office desk, it is not helping us to relax. Stress and mental ill health now account for 57% of all long-term absences from work, having replaced physical complaints, such as backache, as the main reason employees are off sick.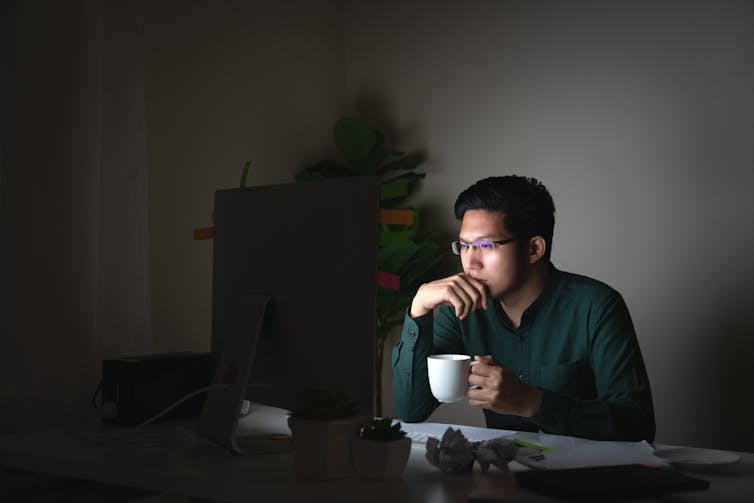 According to the UK mental health charity Mind's most recent Workplace Wellbeing Index, employees with poor mental health may resort to taking leave rather than disclosing mental health problems in as many as one in 12 cases. In an echo of the Deloitte findings, Mind found younger employees far less likely to disclose they are struggling with mental health.
How companies should respond
So what should modern managers and employers do to ensure staff are not being run into the ground by leaveism? As reported by Deloitte, responsible employers are now considering the impact of it in their corporate reporting frameworks. This is something that needs to become standard practice, in a similar way to what has happened with presenteeism.
Unlike previous generations, many bosses will be overseeing teams of displaced staff, many of them working an array of rotas, hours and working patterns. They need to understand how employees think and feel in today's workplace, bearing in mind that this might be a spare bedroom or a cafe with internet access. Being alone, whether actually or perceived, may exacerbate stress and mental health issues.
We recommend that managers and employers make time for regular meaningful contact with all employees, discussing not only their work but also how they are feeling about life in general. They certainly need to encourage staff to take annual leave for holiday and recuperation time. They also need to distribute work evenly and fairly, ensuring there is cover for the employee in question so that work is not simply stacked up awaiting their return.
As far as employers are concerned, they need to encourage managers to develop the necessary people skills to handle these kinds of interactions, by making sure they receive regular, appropriate training. Especially when you are talking about a scattered, remote workforce, it is important to make sure there is workplace peer support in place for employees and regular check-ins.
It's all about creating a workplace environment conducive to a supporting culture. Expecting fewer employees do more is a false economy, since you tend to lose the best people and do more harm to your organisation in the long run.
Finally, we have to give a nod to all those emails outside working hours. Managers need to stop sending them. You know who you are.

Ian Hesketh, Project Support, National Health & Wellbeing Forum, University of Manchester and Cary Cooper, Professor of Organisational Psychology and Health, University of Manchester
This article is republished from The Conversation under a Creative Commons license. Read the original article.